What is a linocut?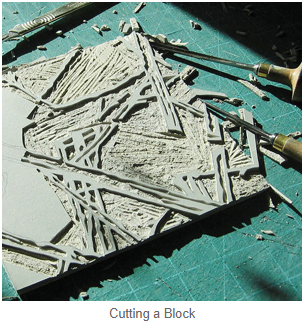 Linocutting is a means of printmaking where an image is traced down onto a block of lino and those areas not needed are removed using a knife and various gouging tools.
The block is then inked-up with a roller and printed down onto a piece of paper usually by means of a printing press. Successive blocks (often one block for each colour) are cut and printed on top of the previous colour (when it is dry) until the final image is achieved.
It should be noted that a linocut is individually hand printed by the artist, which means that each print will be slightly different in appearance to another in the same series.
A hand printed linocut should not be confused with a giclee or a mass produced print so often sold in galleries. These prints, although signed by the artist, are produced photographically from an artist's original and are little more than colour reproductions that you would expect to find in a magazine or a book.
My use of references
I combine a variety of references when creating my compositions, from sketches and drawings to the extensive library of photos that I have amassed over the years on my iMac.
Most of my complicated linocuts are composed from assorted references. Here's how I achieved the composition for "Heading for Home".
The background is of a stand of pines in Ashdown Forest, Sussex.
The clouds and distant trees from a view over the Forest of Dean.
The fox is taken from a reference photo that I took at the Kingussie Wildlife Park in Scotland.
The great spotted woodpecker is from the time when I worked as a student volunteer during my summer holidays at the RSPCA Wildlife Sanctuary, Fairlight in Sussex.
The gorse flowers were from a reference gathering trip that we took to Fishguard, Pembrokeshire.
These references have been brought together to create an image that was eventually printed from 51 blocks of lino.